How do you keep up with running your business, finding clients, coming up with new ideas to keep your business from getting stale, and implementing it all?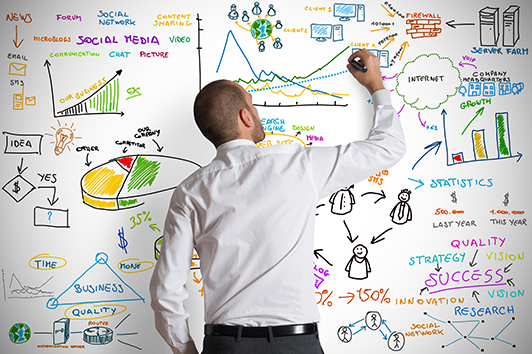 Running a Business is Tough
There is so much involved in running the day to day operations of a business that sometimes it gets difficult to think outside the box for a new promotion idea, develop new strategies, or to keep up with ever expanding marketing trends. Even 10 years ago, marketing efforts were completely different then they are today. How do you have time to learn all of these new marketing skills and find the time to implement them; and that's just one aspect of several in running a business. Blogging, search engine optimization, keyword research, social media, web design (or having a website at all), responsive design, link building, the list can go on and on, and this is just online marketing for your business. It can get dizzying trying to learn and implement a strategy for just one element of your business, so what do you do?
Do you Learn and Re-Learn the Tax Code Every Year?
Well for starters, don't get overwhelmed by all of the new constantly evolving marketing practices out there. Do you learn and re-learn the tax code every year, or do you outsource your accounting to a tax accountant (assuming you aren't an accountant?)
Don't be Afraid to Outsource Internet Marketing for Your Business
The same idea applies; if it's not core to your business why are you spending weeks trying to keep up with the latest trends and practices in marketing (online and offline marketing.) This is something that people with expertise in this field can assist you with and help take the burden off of your shoulders.
Be Wary of Those Who Promise the World
One caveat to outsourcing your Internet marketing is to be wary of people who promise you the world. Go into Internet marketing knowing that it's a long term strategy, not one that will pay off over night. Unless you're implementing a pay per click advertising campaign, results will not flow in as soon as you make a change to your website, add a blog, or create a social networking account.
I've seen companies promise the world in a day, and it makes me wonder if they're using black hat practices; black hat methods will surely destroy your website rankings as soon as Google discovers the bad practices. Also, getting your specific keyword to number one on Google is a difficult thing to do. If you have 100 marketing companies all selling that same line to 1000 similar businesses, who all want to rank #1 for the same keyword, someone has to win out right?
The trick here is to know what keyword the company is going to rank you #1 for in search results. If they're going to rank you number one for the word "marketing", it's highly doubtful and you should be wary. However, if they're going to work on ranking you number one in search for "internet marketing consultant on the north shore", it's much more likely to happen, because it's a long tail targeted keyword phrase. Fewer people are searching for the phrase, but those that are will find you first.
Work Alongside an Internet Company, Don't Just Pass the Buck
Another benefit of working with an internet marketing company is that they can help you define your strategy and understand what you need to be doing; it doesn't make sense for every company to be on Facebook for example. You have to look at your buyers and persona's and understand what they do and where they are online before you can decide the right mix of marketing strategy.
Although you can take a lot of the burden off of your shoulders by working with an outside internet marketing company, keep in mind that marketing your business requires your input, just like a tax accountant needs your books in order to do your taxes. For example, if you have a blog on your website, and you're working with someone to write and post content, you need to work along with them and let them know what's going on in your business. What projects are you working on, what new products do you offer, do you have any specials or promotions coming up, have you moved to a new office, etc…?
Having input on blog content is important because otherwise it may end up being a generic industry blog, which takes any personality out of the equation. You want to connect with your audience, buyers, clients... Make sure what you're writing is valuable, and personable so they can feel a connection and be comfortable buying from you in the future.
Let go of Trying to do Everything and Focus on the Core of Your Business
So the point is, don't get overwhelmed and bogged down in trying to figure out internet marketing. Take this chance to view it the same way you see tax accounting for your business. If you let go and are willing to work with someone else, you can focus on growing and running your business, instead of spending weeks learning marketing strategies that may change tomorrow.