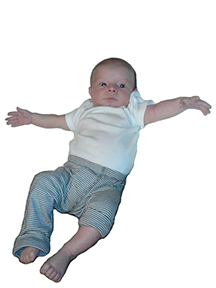 As a new father, I've been seeing a lot of correlations between my baby and marketing, so I thought I would put together an article about the similarities. Sort of a fun tongue and cheek approach to babies and marketing. I was planning to make this into an info-graph, but it wasn't working out, so maybe when I have a little more time I'll take a stab at it again. So without further ado, I hope you enjoy "how marketing is like a baby".
To make it a simple correlation, going through body parts seemed like the appropriate route to take:
Eyes - I can see you, but only from a short distance:
Babies can't see much more than a foot in front of their face when they're first born. Your marketing efforts might seem so far off in the distance and hard to see at first, but if you look at the bigger picture, you will see that it will all come into focus. Providing people with relevant and useful content, sharing with others, listening, being and acting human in your interactions, and figuring out the pain points of your customers will all lead the way to better vision.
Feet and Legs - I can stand on my own two feet... after I learn to crawl:
Before you can stand and walk, you need to crawl. Understand that when done right, marketing efforts will take time and won't provide instant results. But over time, you go from crawling to walking as your marketing efforts begin to show sustainable growth and results.
Mouth – What's that you're yammering on about?:

A lot of noises come out of a baby's mouth, and most of it is grunting and dinosaur sounds at first. Know that not every article you write will be the best content of your life, but if you keep writing and speaking what's on your mind it will get better and more coherent over time. You will continue to learn what works and what doesn't, just like a baby starts to form all of that gobbly-gook into coherent words and sentences. Just remember the advice about a baby's ears, don't do all the talking, make sure you stop and listen once in a while too.
Stomach - Mmm, I'm hungry! Feed me more…content!:
Just like a baby needs nourishment to grow healthy and happy, you need to feed and nurture your marketing campaigns so they will grow too. If you ignore your content marketing, your efforts will be wasted and you won't see increasing positive customer trends. Keep feeding your marketing efforts with content, valuable resources, and useful information, for a strong happy and healthy marketing strategy.
Ears - I'm listening, now tell me something valuable!:
A baby takes in all the sounds around him just like your marketing strategy should have open ears and listen to others around you. Being the one who does all the talking and never listens can turn off potential buyers and make you lose sight of what they need and want.
Diaper - No explanation needed:
You know what ends up here. Don't spew BS and you don't have to worry about your marketing being like that part of a baby.
I hope you enjoyed my fun look at how marketing is like a baby. Hopefully you got some useful information out of it too. Do you have any other suggestions or ideas how marketing is like a baby? Maybe I'll add your suggestions to mine when I make a new marketing info-graph out of this.